We recently posted a survey about 'Data Deposit'.  The survey is still open if you wish to respond.
The first question in the survey asks:
"How much do you know about SWORD?"
We asked this simple question as we wanted to find out the general level of knowledge about SWORD within the community who responded.  The survey was sent to various email lists with an interest in managing research data, SWORD, and repositories.  The following graph shows the responses to this question (survey responses as at 12/12/2011, number of responses = 35):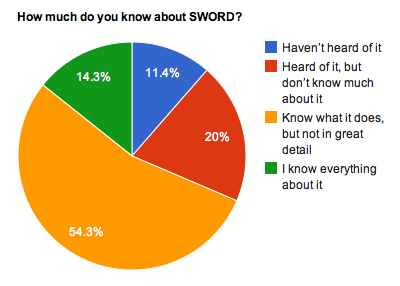 The responses confirm our suspicion that a lot of people have heard of SWORD and know what it does, but a reasonable proportion either haven't heard of it, or don't really know much about it.  So there is good news, and room for improvement in this result.
We'll post further results from the survey over the next few weeks.