The SWORD project recently published a call for project proposals to create new SWORD v2 clients.  We are happy to announce that two projects have been funded which we'll introduce in some blog posts.
This blog post introduces the first of the two: Right-click deposit by Kim Shepherd.  The project proposal aims to:
Create a configurable Windows SWORD v2 client which offers quick access to repository deposit via the Windows right-click context menu.

It would be developed with a focus on easy and non-intrusive installation to allow easy large-scale deployments. It will be designed to take advantage of the familiarity most Windows users have with right-click menus and actions, so that users do not have to learn how to use "yet another app".

Some usage examples include:

Pre-configure repository/collection settings and deposit any file with one click
Configure repository settings and select collection at time of deposit
No configuration, select all options at time of deposit
Configure a range of deposit profiles which can be selected via the context menu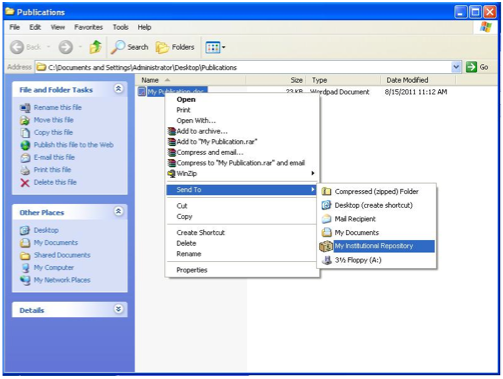 We'll post updates on this blog as the project develops.